San Diego – California
5330 Carroll Canyon Rd Suite 140
San Diego, CA 92121
Phone: (858) 461-7886
Monday – Thursday: 9:00 AM – 8:00 PM
Friday: 9:00 AM – 4:00 PM
Saturday – Sunday: Closed
Our San Diego, California vein doctors are the nation's leaders in treating venous disease. From the minute you walk in the door of our vein medical center, you will receive the full attention of our team of dedicated vein disease experts. Our attentive staff focuses on creating a warm and friendly environment so you can relax while we take care of your health.
We take great pride in providing our California patients with the highest level of medical care for vein disease, by identifying and treating the underlying condition that creates varicose veins and spider veins, along with symptoms of tiredness, heaviness, swelling, aching pains, burning, itching, cramps, restless leg syndrome, and even non-healing ulcers.
CALIFORNIA VENOUS SPECIALISTS
At our San Diego Vein Center, Dr. Carly Guthrie and Dr. Billy Schoenfeld specialize in the treatment of Chronic Venous Insufficiency (CVI), a common condition that affects 1 out of 4 people.
Dr. Billy Schoenfeld
Dr. Schoenfeld has advanced training in ultrasound and venous access, having treated thousands of patients in his career. He is a specialist in the treatment of venous insufficiency and varicose veins, including ultrasound guided radiofrequency ablation, sclerotherapy, and phlebectomy.
Dr. Schoenfeld is also double board-certified in Anesthesiology and Critical Care.
Dr. Carly Guthrie
Dr. Guthrie is the co-director of the newest location of Spider and Varicose Vein Treatment Clinic in San Diego. Dr. Guthrie is double board-certified and is regarded as one of the top interventional ultrasonographers in the country. In her years training and on staff at Harvard she worked with the top venous specialists in the world.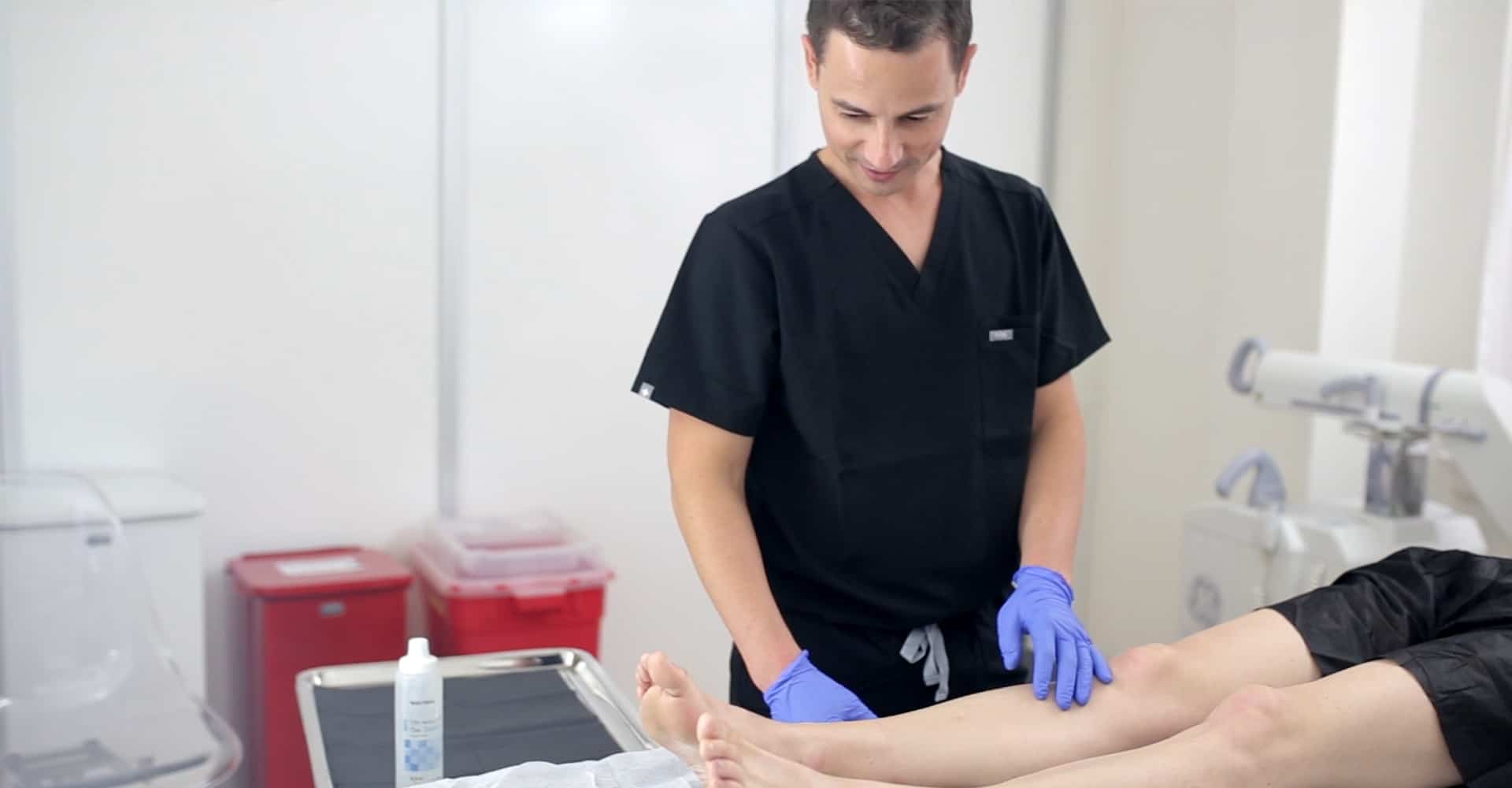 During your initial consultation, our vein specialist will listen and learn about you, your medical history, and vein disease symptoms. Then, our vein doctor will determine whether or not you require an ultrasound exam that will allow us to look deep inside your legs and identify your individual vein problems such as venous reflux. After the ultrasound report, and a comprehensive evaluation of your case, your vein specialist will then determine and customize the best treatment plan for you.
Please contact our Vein Clinic San Diego, CA – on Caroll Canyon Rd – medical center location to schedule a consultation with one of our Calfornia vein treatment specialists or fill out the appointment form below.
By emailing us or contacting us via web form, you are accepting the inherent privacy limitations of online communication. For more information about internet privacy, please read our 
Communication by Email/Text document.
Please respond "stop" to text messages to opt out.
FIRST TIME VISITOR?
When you are arrive at our vein treatment center, you will be greeted by one of our front desk team member, who's usually May or Kat. They will give you a questionnaire to fill out so that we can better understand your medical history – along with your spider vein and varicose vein concerns.
We try our best to be on time for all of our patients, so please try to get here on time! If you are running late, just give us a courtesy call
(888) 827-7441
We try our best to be on time for all of our patients, so please try to get here on time! If you are running late, just give us a courtesy call
(888) 827-7441
Varicose Vein Clinics in California
ultima modifica:
2018-05-08T15:57:39-04:00
da